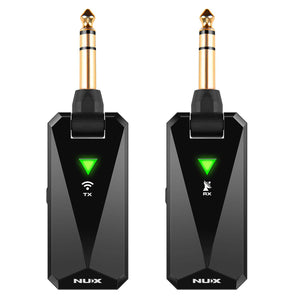 he new Nux B5RC is the new wireless unit from Nux and now works with both passive and active instruments ranging from Electric Guitars, Bass Guitars, Ukeleles and other Instruments that have a 1/4" jack input. It uses 2.4GHz wireless technology and features a latency of less than 5 milliseconds. It also has a transmission distance of 15 meters and gives you the freedom and removes the hassles usually associated in using conventional cables.
The Nux B5RC now uses an automatic frequency matching technology eliminates cross-talk. The transmitter and receiver will automatically select the best channel for pairing ensuring that you are unbothered with such settings and can focus on playing. This completes the definition of plug and play.
Definitely built for the road and on the go, the Nux B5RC comes with a Rechargeable Charging Bag. This will allow you to charge the B5RCs while you are not using them and if there is no wall socket or USB port nearby. A full charged Charging Bag can charge the units 2 to 3 times. The average usage time of the B5RCs is 3.5 hours.
4 up to a maximum of 5 pairs of the Nux B5RC can be used at the same time depending on the setup and current environment of where the units are being used.
The Tech Features
Brand: Nux
Model: B5RC
Wireless Band: 2.4GHz ISM Band
Signal Sampling: 24 Bit / 44.1 KHz
Range: Up to 30 meters / 100 feet line of sight (environment dependent)
Latency: Less than 5 ms
Usage Time: Up to 15 Hours on Full Charge
Unit Battery Capacity: 3.7v / 500 mAh
Charging Bag Battery Capacity: 4000 mAh
Weight: 68 grams