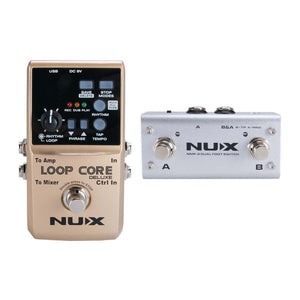 The New Bandmate for Today's Modern Musician
A Quick Look at Loop Core Deluxe. With upgraded hardware, the new Loop Core Deluxe allows you to record loop phrases up to 8 hours with unlimited layers in 24-bit high-resolution audio quality into 99 saved memories.
Loop Core Deluxe`s Drum Rhythm Nothing feels better than playing your guitar along with realistic drum rhythms. Loop Core Deluxe's all-new drum machine comes with 40 different drum rhythms (30 in 4/4, 10 in 3/4) covering different styles of genres including rock, pop, blues, jazz and much more.
Stop Modes: To finish your playing, you can choose 3 different modes:
1- NORMAL MODE: Double tap - Instant Stop
2- FINISH MODE: Plays until the end of the last measure
3- FADE OUT MODE: 10 seconds Fade-Out
Importing and Backing up Your Loop Phrases Connect your Loop Core Deluxe to your PC/Mac with a Mini-B USB connector to import available loop phrases or to back up yours. Loop Core Deluxe is only compatible with 24-bit/44.1kHz WAV files.
Loop Core Deluxe Bundle The LOOP CORE BUNDLE includes the additional NMP-2 DUAL Footswitch which is absolutely the easiest way to switch between loop phrases. Your recordings for verse, chorus, and bridge parts, can now be seamlessly accessed utilizing the convenient DUAL footswitch.
Pro-Features:
Frequency Compensation & Cabinet Simulation
To ensure the exact tone you desire, Loop Core Deluxe is designed with frequency compensation for drums and a cabinet simulator. Both are utilized through the stereo output Jacks.
Stereo Output Connection Ways
When using Loop Core Deluxe in the same situation as pictured below, it will detect the type of devices connected. The original guitar tone and loop phase will output to guitar amplifier while drum machine sound output to the mixer. The Stereo Output has serval options: to amp, output guitar signal or to the mixer, drum machine out. Loop Core Deluxe will detect the type of the device you are using and the original guitar tone and loop phase will output to your guitar amplifier while the drum machine sound will output to the mixer.
True Bypass or Buffer Bypass
Loop Core Deluxe is designed with a switchable buffer bypass and true bypass. The choice is yours! Already, have a buffer bypass pedal? Use it! This system fits your needs.
Automatic Tempo Detection
Loop Core users are already familiar with the many hidden treasures of our original Loop Core such as automatic tempo detection. You can easily lay down a loop w/out a metronome or any drum patterns. Add a drum pattern later, and Loop Core Deluxe will automatically process your tempo to match the pattern. No technical details to fumble with; just enjoy your music!
Loop Core Deluxe vs Original Loop Core:
Better recording sound quality (24-bit vs. 16-bit)
Longer recording time (8 hours vs. 6 hours)
Upgraded drum machine with more realistic drum sounds
Equipped with NMP-2 Dual Footswitch control pedal for ultimate user experience
Frequency compensation & cabinet simulation
Put your own music into Loop Core Deluxe
You can convert any audio file to make it compatible for Loop Core Deluxe. You can download the Nux Audio Converter software free. (Check the support page)
Important Footswitch information
When Loop core is plugged into footswitch in input A:
Footswitch acts as either stop/start loop function or Tap tempo if used before recording
When Loop core is plugged into footswitch in input B&A:
Footswitch will act as a phrase selector - allowing you to change between pre saved loops using A to go down and B to go up.
If you want to change between these functions you need to turn off your looper and plug into chosen input while the footswitch is off.
The Tech Features
Brand: Nux
Model: Loop Core Deluxe
Sampling Rate: 44.1K
A/D Converter: 24 bit
Signal Processing: 24 bit
Frequency Response: 20Hz - 20kHz
Noise Level: -98dBu
Dynamic Range: 101dB
Power Consumption: 65mA - 70mA
Input: Mono
Outputs: Amplifier Out, Mixer Out (Cabin Simulated) 
Display: LED & LED Segment Displays
Power: 9v DC Negative Tip / 9v battery
Dimensions: 12.2cm x 7.2cm x 4.7cm
Weight: 270g