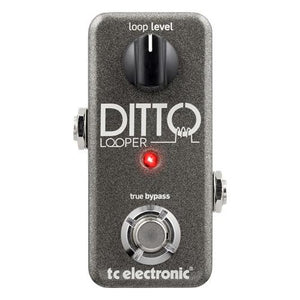 TC Electronics Ditto Looper Pedal
"Highly Intuitive Looper Pedal with 5 Minutes of Looping Time, Analog-Dry-Through and True Bypass"
DITTO LOOPER was designed from the ground up with guitarists in mind. Hey, we play too, so it just made sense. We made sure DITTO LOOPER takes up minimal space on your board, but still has the essential "make your guitar-heart jump" features, such as True Bypass and Analog-Dry-Through to ensure your tone remains uncolored.
Key Features:
Highly intuitive looper pedal provides only the essential looping features for total simplicity of use
5 minute looper with unlimited overdubs and undo/redo for total creative freedom
Analog-Dry-Through maintains total integrity of analog dry signal path even when looper is engaged
True bypass allows for optimum clarity and zero high-end loss when pedal is off
24-bit uncompressed audio for ultimate sound quality
Internal memory retains loops even after power down
Ultra-simple single-knob operation sets loop playback volume
Extra-small enclosure easily fits on any pedal board
Sturdy die-cast metal case designed for life on the road
3-Year Warranty Program*
Designed and engineered in Denmark