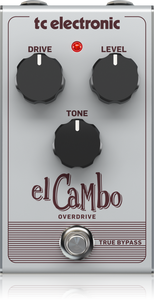 As far as versatile and ubiquitous effects go, an overdrive emulating a pushed tube amp is number one. El Mocambo will fatten up your tone with some extra girth around the waist, giving you that highly sought-after mid-range "oomph" that cuts through the mix when your band is pushing decibels. This particular gritty mid-range honk gives the guitar a certain vocal quality that is ideal for a singing blues solo but also works formidably in a hard rock setting as a lead boost on top of an already overdriven sound.
El Mocambo Overdrive features a distinct mid-range boost when engaged. This can help warm up a tone that's a bit too jangly to cut through a loud rhythm section and also gives a certain vocal quality to a lead guitar sound. With its symmetrical clipping overdrive circuit, the harmonic saturation is very fluid and musical sounding.
With plenty of gain and boost on tap, El Mocambo can be tailored to work in almost any setting. From just a bit of push to your preamp and a subtle warmth to your tone to a screaming overdrive with singing sustain and girth, El Mocambo gets you there. From blistering Texas blues, soulful pop ballads to classic rock riffs – El Mocambo fits right in.
Made from a sturdy metal housing, this all-analog overdrive will last for years and years without losing that warm tube saturation tone. Top mounted jacks are convenient and ingenious way to save pedal board space and keeps cable clutter to a minimum and true bypass keeps your signal nice and clean.
Features
Old school tube-style overdrive
All-analog symmetrical clipping circuitry
Smooth and warm overdrive with singing sustain
True bypass
Top-mounted I/O
Compact but roadworthy design
Highly affordable
Runs on 9V battery or optional PSU
Power consumption: 9V DC and 10mA