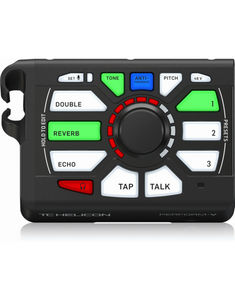 Pro Sounds for Singers
If you're serious about singing, you'll find that sounding your best is about more than talent or vocal technique. It's about taking what is unique about your voice and using the right tools to make it stand out – whether you're live at a venue, a radio session, recording at home, or uploading to YouTube, SoundCloud, Facebook, Instagram, or any of your other favorite social channels.
This is where PERFORM-V shines. What formerly required a skilled producer or a dedicated sound engineer can now be set up in seconds and offer the professional vocal sound that is key to an unforgettable performance. The beauty of PERFORM-V is that it lets you focus entirely on your love of singing and creativity while it automatically handles the polish and production values.
Instant Studio Sound
Crystal clarity for every word is the true power of PERFORM-V. It understands what suits your voice and shapes it for your audience. Pressing the TONE button automatically takes care of the business of making you sound better. If there is one magic trick inside PERFORM-V, this is it.
Time-Tested Vocals
Onboard are all those exciting sounds that captivate your listeners, create dazzling effects, or add lyrical emphasis – just like those used by every popular artist before you. The DOUBLE, REVERB, and ECHO controls give you fast access to all the classic sounds that make good singers great and they're yours to explore.
Just Beam It
Out of the box it's easy to dial in a timeless, premium vibe using the onboard Double, Reverb, and Echo sounds. However, the real fun starts when you download the free PERFORM-V app for your smartphone.
Choose from hundreds of pre-made sounds including HardTune, harmony, megaphone, and instantly recreate the vibe of your favorite artist or musical style. Simply "beam" the sounds directly from your phone to the PRESET buttons and you're good to go – no need for accessories or even a wireless or Bluetooth connection! It's pretty much magic, and you'll just have to try it to believe it.
Make It a Hit
Most presets you beam or download come with a "HIT" function. HIT helps you build intensity into your performances by adding additional layers to the preset by simply pressing the preset button a second time (it turns blue instead of green). This is ideal for creating striking choruses or highlighting a certain phrase.
Set and Forget
PERFORM-V removes much of the complexity involved with most audio gear. In addition to Tone, the Automatic Microphone Input Gain means that setup is as straightforward as plugging in a mic and holding the SET button while you sing. Boom, ready to rock. It even clips onto your mic stand right where you need it.
No Worries
Everything about PERFORM-V is designed to remove the typical obstacles that singers face while leaving the all-important creative control to you. This includes the option for adding subtle PITCH correction as well as ANTI-FEEDBACK, which protects you from accidental screeches, so you can sing your heart out anywhere on stage.
PERFORM-V Overview
Essential set of classic vocal effects, including 4 Reverb, 4 Echo, and 4 Double type
Automatic Microphone Input Gain for painless mic setup
Adaptive Tone. Automatic global control of EQ, Compression, De-essing and Gating for a professional vocal sound
Powerful Anti-Feedback algorithm eliminates speaker squealing instantly with minimal impact on the overall sound
Store and recall your favorite effects combinations to 3 preset locations
Beam new vocal sounds from your smartphone via the free PERFORM-V mobile app for iOS and Android. Beaming presets include selection of 1 and 2-voice harmonies, HardTune, megaphones, song and artist presets and more, with HIT functions