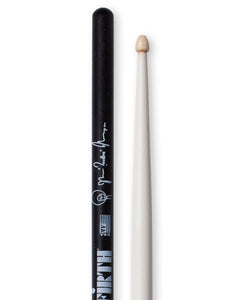 Vic Firth Ahmir Questlove Thompson Signature Black/White Drum Sticks
A very long and thin stick with an extended taper for the perfect lightweight feel. Vic Grip provides an anti-slip finish.
With supreme versatility, ?uestlove is in demand as a DJ, music journalist and record producer. He is best known, however, as the drummer for the Grammy Award winning band, The Roots, which is now the in-house band for Late Night with Jimmy Fallon. With a very distinct style and sense of groove, ?uestlove is certainly one of the most soulful drummers on the planet!
"When I play," states ?uestlove, "it is extremely crucial that I keep the pace, rhythm and most importantly, the pocket. To do this, I had to design a stick that has a perfect lightweight feel and a finish that would help me hold onto the stick for my 'break beat drumming' approach. For me, the combination of a very long and thin stick is quite unique. And with the grip we have, I am sure I now have the perfect design!"
With 17" of length and an extended taper, ?uestlove's new stick can really crack! Finished in white, the stick features a black rendition of our anti-slip Vic Grip coating for a distinctive look and feel. This specially formulated coating is extremely durable and an ideal choice for players who prefer an enhanced grip on their drumsticks.
"I've used Vic Firth all my life," ?uestlove goes on to say. "To me there is no other option — Vic Firth is the best! The wood Vic chooses is the strongest and most durable which is so important, especially with a thin stick like mine! Thanks for going the extra mile for us all, Vic — personally and professionally!!"
Diameter: .520" | 1.32cm
Length: 17" | 43.18cm
Long Taper
Material: Hickory
Surface coating: Vic Grip
Tip Type: Wood
Tip Shape: Tear Drop
Tip Surface area: Small