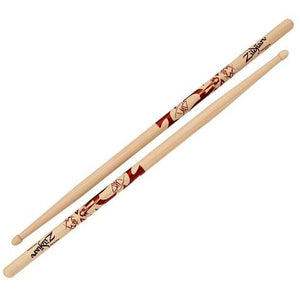 Zildjian Dave Grohl Artist Series Drumstick
The Dave Grohl Artist Series Drumstick model prominently features metallic, two-color artwork of Grohl's famous tattoos on both of his arms. This model also features large dimensions, a length of 16 3/4" and diameter of 0.600" for extra power and reach as well as an acorn-shaped tip for sound clarity.
Crafted from 100% U.S. Select Hickory, the preferred wood for drum set sticks, its overall design is especially well suited for Rock applications where power, rebound, and durability are critical.